Foam-Filled Tires
Foam-Filled Tires
Are foam-filled tires a good option for you and your operation? Choosing between foam-filled and air-filled pneumatic tires depends on your application and what you're looking to get out of the product. For example, as durable as the foam-filled tire may be, you will feel every bump that comes in contact with the wheel. Whereas, the cushioning of air-filled tires can serve as a shock absorber when rolled over a sudden change in landscape.
Let's dig a little deeper.
When on a job site, the last thing you want to be worried about is your equipment tires going flat. You want tire solutions that you can rely on, especially when faced with threatening terrain. Foam-filled tires will give you this peace of mind while you work hard.
Foam-filled tires are OTR pneumatic tires (Bias Air Tires) filled with a type of liquid that hardens inside the air tires and converts the air tires to solid tires. This technology has existed since before the invention of solid tires. It has been the main way to get a "puncture-proof" tire.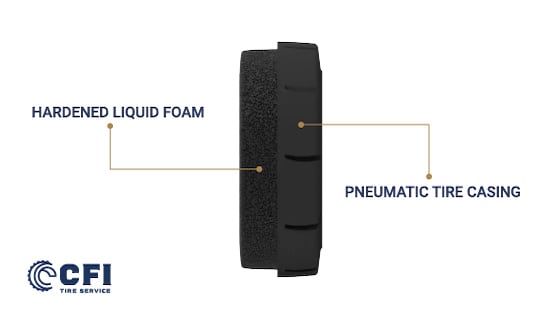 Foam-filled tires do last longer than air-filled tires, and are usually better for most job sites. However, foam-filled tires are sometimes harder to push because they're heavier. An air-filled pneumatic wheel is two to three times lighter than a foam-filled wheel and provides a smoother ride. So, air-filled tires offer more comfort and foam-filled offer you more durability across the job site.
The primary benefits of a foam-filled tire are:
You can use tires that come from the factory and convert them to foam-filled tires.
The total cost can be cheaper compared to solid tires when rubber prices are high.
Durability – they are great over tough terrain.



Whichever you decide is best for your operation, the tire experts at CFI are here and ready to help you make your decision.